<! -Main Body Starts>
Welcome to a practical resource of Yoga information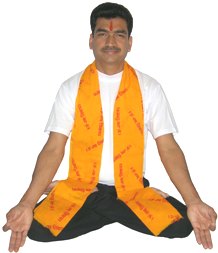 OmYoga helps to start and guide you to achieve your eventual goals. The best part of both Hatha-Yoga and Ashtanga-Yoga has been taken. You will find a great depth in the areas of:
<! Disc, circle, square, 1, a, A, i, I>
Yoga Asana:
Posture, Stretch, Pose or Asan
Pranayama or Pranayama:
The Breathing Science or Breathing exercise, Respiration
Kriyas:
Science of Purification, Removal of toxins from the body, Cleansing Techniques like Dhauti (Dhoti), Neti, Basti
Bandha/ Mudra:
Body Locks, psychic knots or psycho-physiological energy release techniques
Disease Cure:
Know which yoga postures or Pranayama is suitable to cure your illness
Yoga Articles:
Hatha Yoga, Ashtanga Yoga and many more to learn..
Yoga, one of major Indian ancient knowledge, can save you from vast number of diseases after and before you get un-healthy. A very small time (15 to 45 minutes a day) devoted to yoga may change your life. Basically Yoga was never designed for health benefits. The only aim of ancient Yogis (Sages) was to achieve God. To achieve God they were to meditate, so they discovered best practices of Smadhi or deep meditation. For better concentration they designed various Pranayama. To keep themselves fit to meditate they also discovered yoga postures or Asanas. Their aim was to purify the body and soul. In present scenario, yoga has a great influence on physical health and mind. Try a few Asana and Pranayama and see how pleasant the world is!
Yoga, The ancient knowledge from India!

<! -Main Body Ends>