<! -Main Body Starts>
Samasana
Other Names
Symmetrical Pose, Equal Posture, Sam Asan, Sama Asana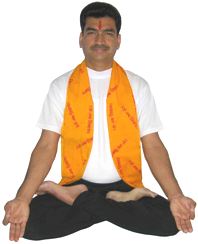 Description
In this posture, body remains in a symmetrical position and, therefore, it is named Samasana. It is a meditative Asana.
How to reach the stretch
Spread both the legs and keep them at a distance of 1 to 1.5 feet.
Bend the left leg in knee and place it touching the thigh of the right leg in such a way that its heel rests on the procreating organ.
Bend right leg in knee and place its foot in between the thigh and its heel is placed of the left leg.
Keep the wrists of both the hands on the respective knees and take Dhyana Mudra. Continue normal breathing.
How to release the stretch
Bring the hands beside the waist.
Straighten the right leg in the knee.
Straighten the left leg in the knee.
Get both the legs together, take the sitting posture.
Benefits
As the backbone is kept erect in this asana, its functioning is greatly improved. Dhyana Mudra further helps in stabilizing pulse beats. Consequently strain on muscles is reduced, which in turn reduces strain on heart.
Also breathing slows down, collective effect of all this is one can achieve concentration of mind.
Caution
People suffering from hydrocele or enlargement of testicles should not practice this asana.
Next: Siddhasana


<! -Main Body Ends>