<! -Main Body Starts>
Sarvangasana-2
Other Names
Extended Shoulder Stand, Viprita Karni Asan/ Mudra, Viprit Karani Mudra, Saravanga/ Sarvanga Asana, Sarvang Asan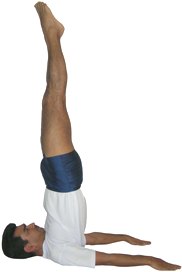 Description
This is the variation of Sarvangasana-1. This pose is more difficult than first pose because in this asana no support to the back will be given.
How to reach the stretch
Start from Supported Shoulderstand Pose (Sarvangasana-1).
Let your both arms rest on the ground towards your back.
Be in the position for some time.
How to release the stretch
To release, let your legs down on the floor, make yourself relax in a comfortable posture.
Benefits
This asana has the stimulating power of tonics.
The entire body is toned with increased blood flow.
Toxin-forming waste matter is easily eliminated.
Caution
Next: Udharva-Tadasana


<! -Main Body Ends>