<! -Main Body Starts>
Upavista-Konasana
Other Names
Seated Wide Legged Straddle Posture, Wide leg seated pose, Upavishtha-Kona-Asana, Upvishth Kon Asan, Upavista-Konasana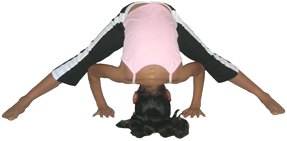 Description
In Sanskrit Upavistha means seated or sitting, Kona means angle and Asana means pose. Upavistha-Konasana translates to Seated Angle Pose. In English, this forward bend pose is often referred to as "Wide Angle Forward Bend". Upavistha-Konasana is a good preparation for most other seated forward bends and twists, as well as for the wide-legged standing poses.
How to reach the stretch
From Staff Pose – Dandasana, open the legs out as wide as is comfortable.
Keep the thigh muscles engaged and the feet flexed.
Make sure the toes are pointing straight up to the ceiling.
Press the legs down into the floor and then bend forward touching your feet.
Stay in the posture for a while and then release.
How to release the stretch
To release the posture, come back to the Dandasana (staff pose) position.
Benefits
This pose is useful to women for menstruation and pregnancy.
Men may find it useful for a hip releasing posture.
Sciatica may be relieved with hamstring stretching.
Those suffering from arthritis may find relief.
Kidneys are detoxified.
Groin muscles are released.
The brain is calmed.
Caution
If you have had a lower back injury, sit up high on one or more folded blankets or on a bolster and come forward as far as possible while maintaining the "normal" tadasana curves in your spine.
Next: Tolangulasana-1


<! -Main Body Ends>