<! -Main Body Starts>
Uttana-Mandukasana
Other Names
Extended Frog Pose, Stretched Frog Posture, Utatana-Manduka-Asana, Utan or Uttan-Manduk-Asan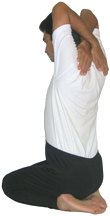 Description
"Manduka" in Sanskrit means frog. The body in Uttana-Mandukasana resembles an erect frog that's why it is called 'uttana-mandukasana'.
How to reach the stretch
Sit in Vajrasana and keep your knees wide. Let the great toes touch each other and keep the body straight.
Then, cross both arms behind the head and place the hands on the upper part of the opposite shoulder blades.
The chin should touch the chest wall like the Jalandhara bandha.
The bandhas of Jalandhara, Uddiyana and Moola are also performed in this asana.
How to release the stretch
To release, come back in the starting position and then relax.
Benefits
It improves the lungpower, circulation in the walls of the chest and abdomen and tone of the abdominal and shoulder muscles.
It also improves sciatica in some people.
Caution
People with spinal cord deformities, disabilities of hip joints and severe backache don't do this exercise.
Next: Shashankasana


<! -Main Body Ends>